Spring is coming and with it comes warmer weather, which means its time to shed those stuffy fabrics and switch to lighter ones, like lace! Which also happens to be one of Spring 2010's biggest trends!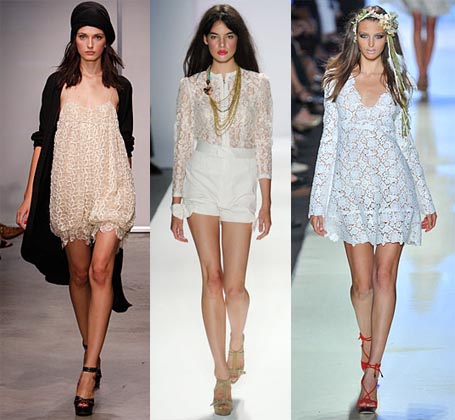 There are two different ways to wear lace: Feminine lace & Rocker lace.
This type of look is so soft and pretty, girly dresses, and pearl necklaces, with nude heels can be worn to a tea party or can be taken more casual with shorts and a top hat and a ribbon.
I find that you can even pair lace with soft florals, just be careful not to overdo it.
The other type of lace style is on the other side of the spectrum. Studs and different shades of gray accompany the girly lace to toughen it up. Large accessories and chic blazers make this look one big statement after another!
Peace and Laughter,
Andrea